•
today
•
Reading time 3 minutes
•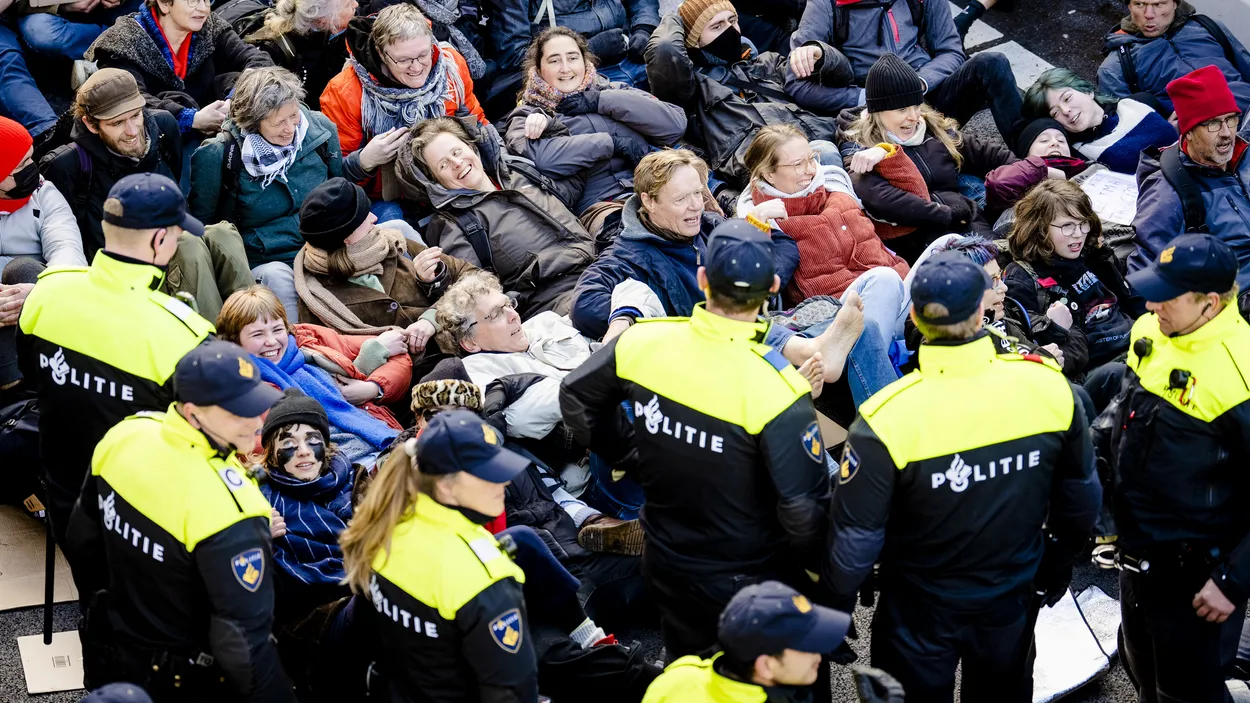 The Hague Municipality is doing what we all prefer to do: erecting a black fence around the urgent need to implement science-based climate policy. They publish Saturday black screens About where the Extinction Rebellion activists will be demonstrating. They are allowing some media and independent observers, but they hope to reduce the interest that the previous demonstration generated.
In the previous demonstration, a large group of pedestrians watched from a safe location. Although these protesters and spectators were unfairly removed by riot police, this also showed the support there for Extinction Rebellion's message.
in My interview with Lee McIntyreauthor How do you talk to a science denier? We talked about selective science deniers. Denying science does not mean denying all science – for example, flat-earthers fly to their conferences and anti-reflexologists simply rely on the judgment of their doctors on other matters. We in the Netherlands – collectively – deny climate science. Most people and organizations are now aware that there is climate change (climatecalamity It's often a scary word) and we have to do something. But then they ignore what the science actually says about the measures we should be taking now to give our children another chance in a one-and-a-half-degree society.
Most institutes now also talk about sustainability, but they pick science about what needs to be done and put up black walls about the urgency and speed with which it needs to happen. Or they recognize the urgency of the climate crisis, but ignore the scientific message that we can actually do something and have all the technology, knowledge and science to do it.
I asked McIntyre how he explained that. His answer, which is based on 20 years of scientific study of science denial, was simple but instructive: Recognize that one piece of science will have consequences for the way we live. And as long as we deny its existence, we do not have to act upon it. We understand climate science but black-fence its urgency.
How ironic that pretend rights are based "in full view". Extinction Rebellion chose A12 because it is a visible place among the relevant ministries. At the previous demonstration, bystanders had been summoned to go to Mallefield to watch the demonstration there (which was not there). Now the municipality has chosen a different approach: if the XR doesn't want to go "out of sight", we'll ensure that it happens out of sight.
Now that the authorities have chosen to hide climate activists from view, I refer to the book Rebel for life by Rozemarijn van 't Eind. Most likely you will be on the A12 on Saturday. Although it is hidden from our view, its statement is written there.
The book is impressive and reads like a train (or any other sustainable vehicle). It is also interesting to those who do not support climate activism as it provides insight into the desperation that lives among a large part of the population. This desperation stems from the fact that we are heading with open eyes into a crisis that is only getting worse. The only conversation we collectively have is how can we slow down a bit. The scientific reality that we should collectively hit the brakes is ignored, dismissed as extreme or hushed up.
We have tacitly agreed that even a two-class society is not worth doing what is necessary for posterity. We are willing to accept that we are the last generation on a livable planet. We don't say this out loud, of course, but that doesn't make it any less true. Climate reality is taboo and anyone who provokes it is punished. Academic freedom is threatened for those who proclaim the harsh truth of climate science.
Rozemarijn struggles with physical challenges, a turbulent "indoor climate" as she calls it. Over and over again in her book people ask why she would take action when it would place such a heavy burden on her health. She says that's how important this is to me.
Is rosemary unreasonable? Are they and the others a lifelong rebellion against Sabbath extreme? Or does she listen to science rather than social norms?
"Twitter junkie. Lifelong communicator. Award-winning analyst. Subtly charming internetaholic."