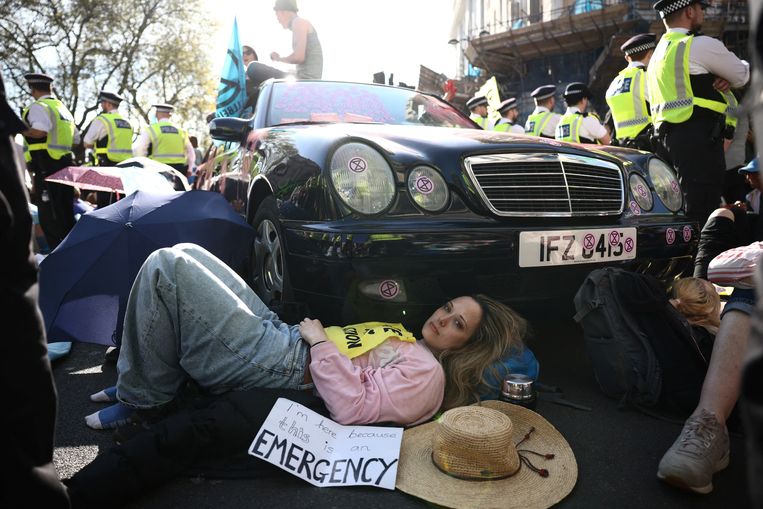 "WE STOP" were the first words in a video posted to Twitter by the UK branch of the climate action group Extinction Rebellion on New Year's morning. It turns out that they don't really stop the explanation On the group's website, however, they stopped short of what environmental activists had made an important factor in the international climate debate in four years: disturbing public order with protest actions.
Climate activists in Britain will no longer block roads, smash windows, tie themselves up or tape themselves to traffic. A startling change of tactics as Extinction Rebellion's civil disobedience now appears to have been followed internationally in the form of soup shooters from the activist group Just Stop Oil.
Attention, little result

Extinction Rebellion states that while their actions have received a lot of attention, little has changed for the better for the climate. "Emission levels continue to rise and our planet is dying at an increasing rate," they wrote.
That is why the British, the country where the first Extinction Rebellion branch was established in 2018, are taking a different path. For now, they will focus on a less controversial and more accessible method of protest that gets more people: demonstrations as large as possible. In their own words, "This year, we value attendance over arrests and ties over roadblocks."
The bit of information hidden in the statement also indicates considerations that may also have played a role in the decision to stop the disruptive actions. One passage reads: "While speaking out and taking action is punishable by law, collective strength, strength of numbers, and prosperity by building bridges is radical action."
This appears to be a nod to the tightening of legislation that last year gave British police more powers to intervene during acts such as Extinction Rebellion that have been carried out. In addition, the British House of Commons approved a controversial new public order law this fall, which appears to be tailor-made for the organisation. If the House of Lords also approves the law, protesters who tie themselves together or to objects can count on a prison sentence. The same goes for protesters shutting down critical infrastructure.
Don't be afraid anymore

Extinction Rebellion also announced that it no longer wanted to intimidate people with actions. This may be in response to a recent YouGov survey. Show that activists in Britain have more critics than sympathizers.
The change of course only applies to the UK at present. Extinction Rebellion has chapters in 83 countries and is decentralized. A spokesperson for Extinction Rebellion Netherlands says the Dutch administration does not automatically follow the path of its British colleagues. We will certainly continue to use civil disobedience as a tool. We feel like we're doing good things with that.
 "Avid pop culture junkie. Alcohol nerd. Award-winning problem solver. Wannabe writer. Baconaholic. Typical creator."