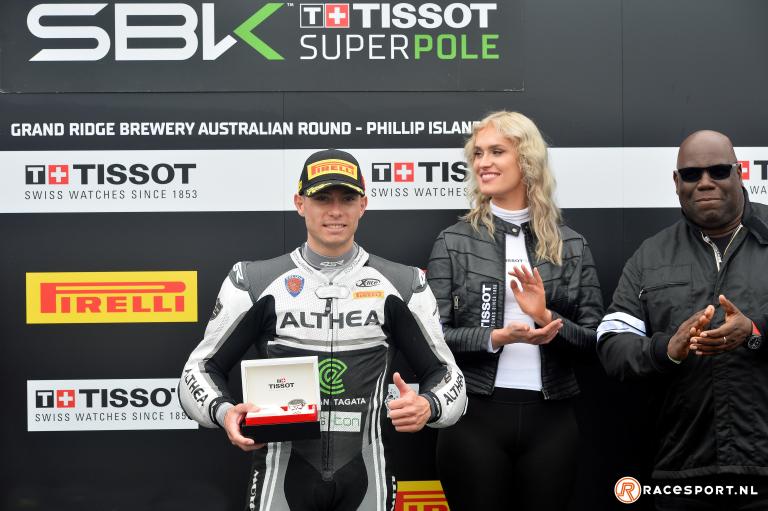 Federico Carcassulo took pole position in the World Supersport class on Saturday at an almost completely dry Phillip Island Grand Prix circuit ahead of Niccolò Pulega and Yari Montella. Glenn Van Straalen finished fifteenth.
At 12:25 local time on Saturday, the Superpole session for the World Supersport class began at the Phillip Island Grand Prix circuit. After a very sunny and relatively warm Friday at the Australian circuit, conditions were now quite different with significantly lower temperatures, more wind and rain.
As it rained just before the start of this qualifying round, the asphalt was wet, so the drivers took to the track with rain tires. There seemed to be a dry racing line, but it wasn't everywhere, so no risks were taken by drivers and teams in the early stages of the session.
Halfway through the session, two-time world champion Dominik Egerter was almost four seconds faster than the competition and on course to trail the World Supersport field, at which point only Jules Klusel and Lorenzo Baldassarri were within 105% of the Swiss.
It all seemed to be on time with Aegerter and Ten Kate Racing, but in the closing stages of the session several drivers mounted an intermediate front tire and a slick rear tire.
With a 1'37.161 Federico Carcassulo took pole position with Niccolo Pulega, who set the same lap time as his teammate, but Carcassulo's second best lap was better and he claimed pole position. Yari Montella took the Italian top three ahead of Dominik Akerter and behind them, Lorenzo Baldassarri, Marcel Schroeter, Conn Angu, Rafael Di Rosa, Simon Jespersen and Niki Tuiuli, who made their debut this weekend, rounded out the top ten.
It's a flood of last laps as Carcassulo moves to the pole! 💥

It is a dead heat between itself and itself @nbulega! 🤏#AUSWorldSBK 🇦🇺 pic.twitter.com/wlKYTPew7y

— WorldSBK (@WorldSBK) November 19, 2022
The first race for the World Supersport class at the Phillip Island Grand Prix circuit will start at 2:30pm Dutch time on Saturday at 4:30pm local time.
---
Useful links Grand Ridge Brewery Australian Tour:
Time Table and Full Results
Where to Follow on TV
Photo report
---
---
---
---
Sponsor of Racesport.nl
Are you a loyal visitor to this website, do you want to support the work of the Racesport.nl editorial team and would you like to continue to have the chance to win amazing prizes?
Become a Racesport.nl supporter now. More information: www.racesport.nl/supporter
"Web specialist. Pop culture buff. Thinker. Foodaholic. Travel maven. Avid coffee junkie. Amateur tv advocate."