Lizette
What do you see yourself doing in times when you feel unwell? How do you make sure you don't slip over or get stuck in this weather? I asked this Thursday evening to people who attended Unit 7 of training this week to the heart of vigilance I started. There was silence and no response for a while. They looked skeptical, looking for an answer. They had never asked themselves this question before.
Do you have an answer to this question?
Do you know what to do in the times when you are unwell, so as not to drown out all the feelings? Are you stepping into another world with a book or movie or are you going to play games? Do you take out your phone and see what's going on in the world, in the news and on social media? Do you hook up with a group of friends and hit the pub together? Or are you doing something completely different? Distraction usually gives immediate relief at that moment. This is beautiful and sometimes very welcome. How about not worrying about what's bothering you. But you can also choose something else. Instead of a distraction, you can also make room for your feelings. For example, a good conversation with someone. Listen to music that suits your mood. Both are an example in which the feeling is taken care of and space is given to that feeling.
An Edel Maex infographic presented this evening contains four parts in which you can use all the strategies you can use when dealing with difficult emotions. please note; One quarter is no better or worse than the other.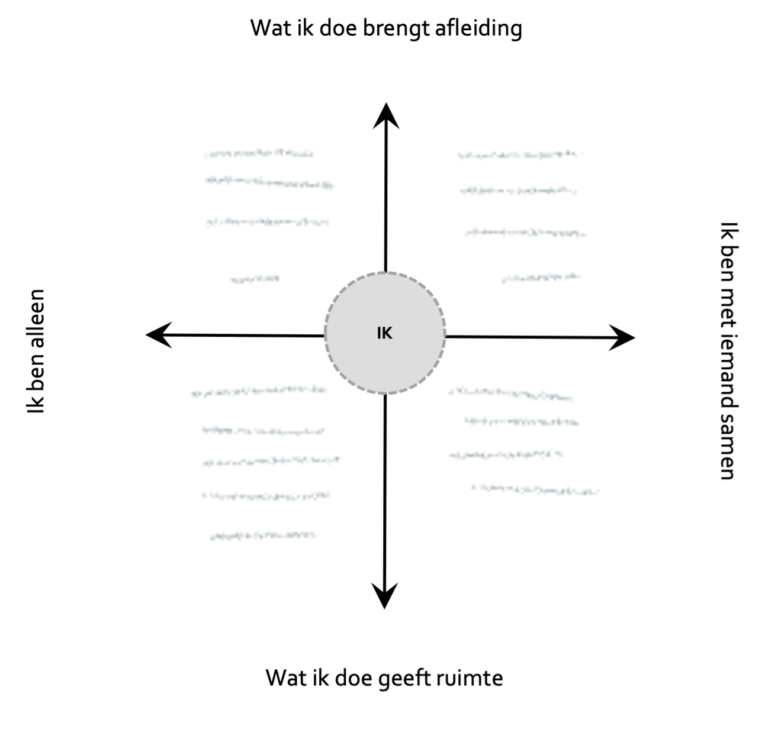 A closer look at the table
The axis goes from north to south from distraction to space.
The axis moves from east to west from one unit to another.
In the middle you are the one who moves freely on the axes.
In the upper left, place useful activities that distract you. You are alone, for example, you go to sports, read a book, cook, work in the garden, etc. For example, you go to a bar with a group of friends. Go to the cinema together (theater, museum, concert), walk, ride a bike, sing choral, sports, etc. At the bottom left, place useful activities that allow you to give space to your feelings. You are on your own and choose the music that suits your mood so you can let your feelings flow. Or you watch a movie that has the same effect. You practice mindfulness, meditate, or write what's on your mind. Go for a conscious walk or do something else on your own where you make room for your feelings. At the bottom right you place useful activities that allow you to give space to your feelings and be with someone. Here you can also take a walk, meditate and practice mindfulness. But also a dinner with your partner or soulmate where you have a good conversation with each other.
What do you see yourself doing?
Know that one is neither better nor worse than the other. But make sure you can fill something in each quarter. Do you see that one of the quadrants is somewhat underrepresented? Then see what you can think of to fill that empty space. This way you finally get a complete board on which you can make an informed decision. Focusing on awareness, rather than responding to spontaneous impulses. What matters in the end is that you can move freely on the axes and not be a slave to the autopilot.
Finally, the comment was made Thursday evening. If you've only filled in for distractions, beware of getting caught up in that distraction. Then you risk losing all sense of reality and achieve the opposite of peace and quiet.
Invest in yourself through mindfulness training or coaching. Email me or read my profile coach finder. Here you will find Link To subscribe to the newsletter. Thanks for your attention.

In her "Wake Up" column, Lisette Boyle writes about her work in practice "You're All Right."
She belongs to coach finder and professional association Nupko. Lisette is a certified personal growth and development coach. In addition to coaching (online) and coaching with nature as an associate coach, she offers training courses and workshops in Mindfulness, Communication, and Intuitive Writing. curious? Check the website www.youbentoke.nl Or send an email to [email protected].
Social media links: Facebook social networking site And the LinkedInAnd the Instagram.
"Twitter junkie. Lifelong communicator. Award-winning analyst. Subtly charming internetaholic."