The largest bike shed 🚲🚲🚲 in our city will open its doors at the end of January. To build the car park, water had to be pumped from the Open Havenfront. Watch 4 and a half years of action in 6️⃣0 seconds. pic.twitter.com/J1GJM6PYmZ

– Municipality of Amsterdam (AmsterdamNL) January 13, 2023
Many new Amsterdammers will only know Stationsplein as a building site, in part because of the construction of Prins Hendrikkade's large bike shed. It lasted more than four years. To build the underground parking facility, water from Open Havenfront also had to be temporarily pumped out.
Last year, little by little, it happened again stuffed. Ultimately, the city will have 7,000 square meters of parking facilities, with space for 6,300 bikes and 700 public transport bikes.
The entrance is on the Martelaarsgracht side, opposite the art'otel on Prins Hendrikkade. As a cyclist, you drive on a roller conveyor and back above the ground through a tunnel, in the subway or station hall. This costs nothing for the first 24 hours, after that NS charges €1.35 per 24 hours.
4,000 more bikes

The parking facility on IJboulevard will also open in mid-February, on the IJ side of the CS. There will then be room for an additional 4,000 bikes. With the arrival of new bicycle parking facilities, the municipality will remove bicycle racks in public places from February 6 to 24 in stages. You can then park your bike only in the parking spaces. If you leave your bike outside, you risk picking it up at the municipality's bicycle depot.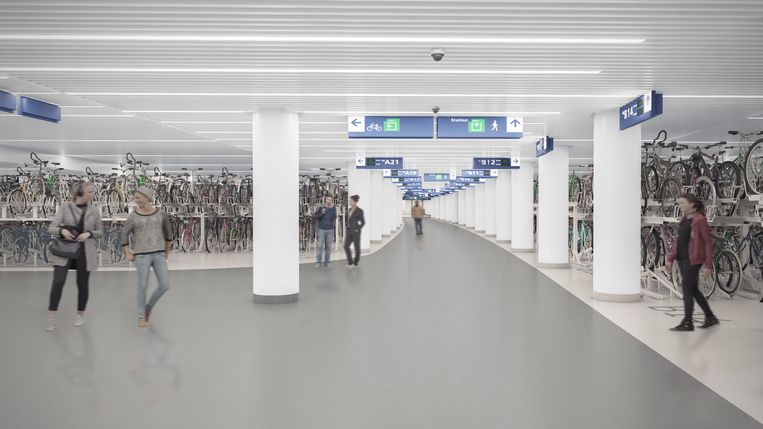 Listen to our weekly Amsterdam Metropolis podcast:

"Twitter junkie. Lifelong communicator. Award-winning analyst. Subtly charming internetaholic."