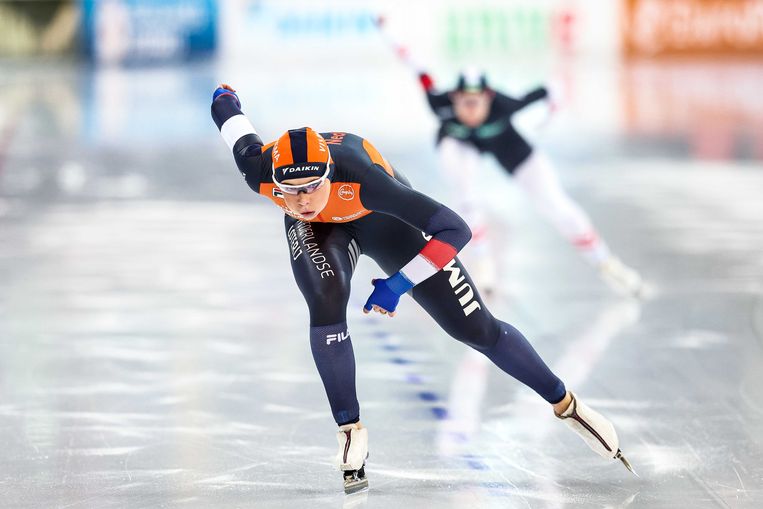 Jota Leerdam will have to stay upright on Saturday and skate hard for about four more laps and then she'll be European sprint champion. After the first two distances, the difference with the competition is so great that it takes a miracle for someone else to take the title.
"I can't help it, can I," she said almost apologetically after the first day in Hamar. In the 1000m, she's been so strong this year that competitors can hardly keep up. In Vikingskipet she was no less than 1.31 seconds faster than Kok (1.15.69) with a 1.14.38.
Leerdam now starts tomorrow with a 0.59 second lead in the 500 metres. And later that day comes the second thousand meters, when she can make the gap even bigger.
Dutch champion

The Westland woman became the Dutch champion due to force majeure last week and is considered the big favorite to win overall. In the 500 metres, she lost a straight duel against Phimki Kwok. El Friese was six hundredths faster than Leerdam with a 37.55.
Austrian medal favorite Vanessa Herzog (38.15) was already much slower than both Dutch women at that distance. At 1000 meters (1.16.80), the difference increased even more. Herzog is still in third place after the first day, ahead of third Dutchman Marit Vlederos.
The European Championship is certainly not the most important tournament this year. On the first day there were only a few hundred spectators at Vikingskipet. Most of the skaters are focused on world championship distances later this year. Women feel the absence of Russia especially. So the competition for Leerdam and Cooke is slim.
Men

It's more exciting with men, although favorite Heine Otterspier also drives there after the first day. The Dutch champion almost got out of control in the 500m race, but managed to recover in time. With a 35.12 he was able to limit damage at his weakest distance. He was two-tenths slower than surprise Italian winner David Bossa, who was only slightly faster than Meren Scheperkamp (35.04) on his stage.
Otterspeer was also not a flawless 1000m, but with a 1.08.32 he was the fastest over that distance. Otterspier explained the minor flaws: "Ice does not forgive." According to him, the upper layer is a little more difficult, so skiers sometimes break through it. That is why it is sometimes a bit unstable for heavier people.
He is now 0.14 seconds ahead of Scheperkamp, ​​who is second in the standings, in the 500m. Estonian Martin Lviv is third, but the gap to the somewhat disappointing Kai Verbig is small, so a full Dutch podium could be in the works tomorrow.
 "Evil tv fanatic. Proud thinker. Wannabe internet trailblazer. Music specialist. Organizer. Hardcore pop culture expert."