What has been in the air for some time is now a reality here. Netflix starts addressing Dutch accounts that don't live under one roof. No more sharing of passwords.
Just like in 102 other countries, the streaming giant will send emails to users in the Netherlands who share their account with people outside their home. In the previous months, Netflix also rolled out the new strategy in other countries where it immediately lost 1 million users. In the long term, Netflix hopes to lure those lost customers back with cheaper ad subscriptions that can't be moved here at the moment.
Love is sharing password.

– Netflix (netflix) March 10, 2017
Unfortunately, the Netherlands is now in focus when it comes to password sharing.
Netflix: "Dutch Account Participants Receive Email"
Netflix has announced that every Dutch user who shares their account outside the home can expect an email with more information from May 23rd.
"The account is for a single household. Everyone in this household can use Netflix anywhere (at home, on the road, or on vacation) and take advantage of new features like transfer profile and access and device management." press release from the broadcast platform. "We know our members have many entertainment options to choose from. That's why we continue to invest heavily in a wide variety of series and movies. So whatever your taste, mood, or language and whoever you're watching, there's always something to watch on Netflix."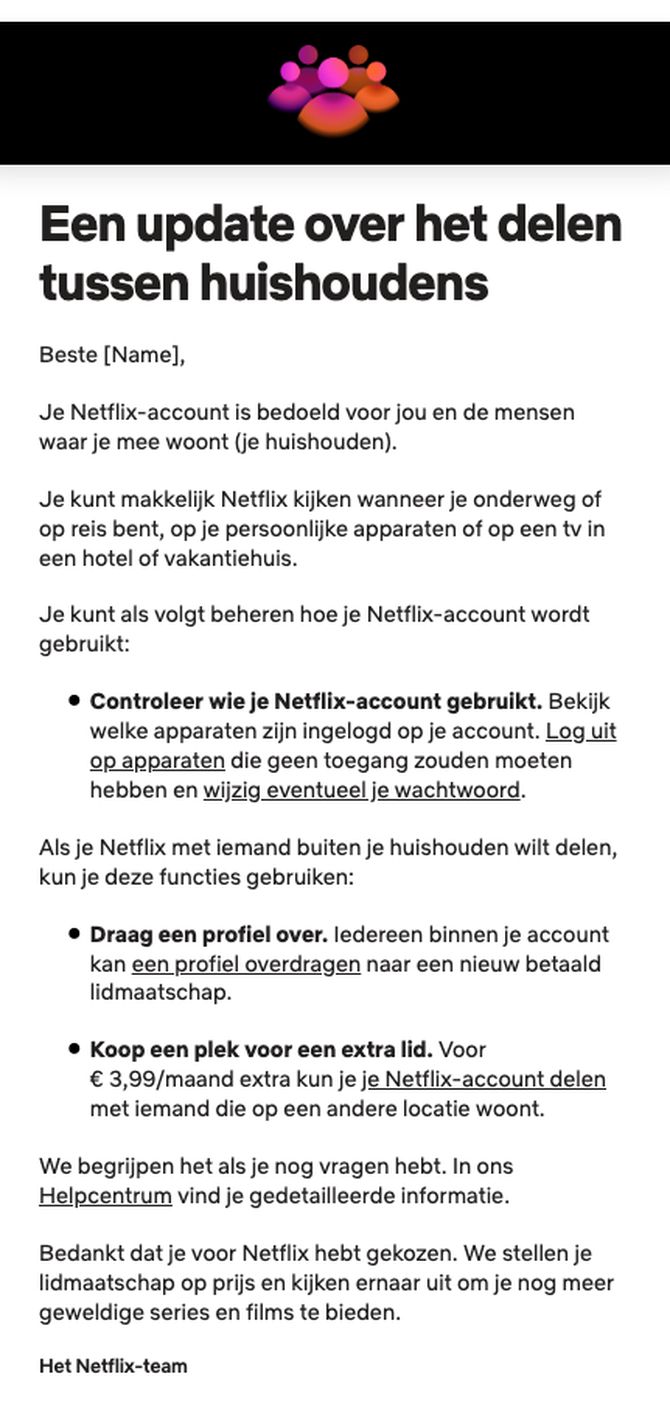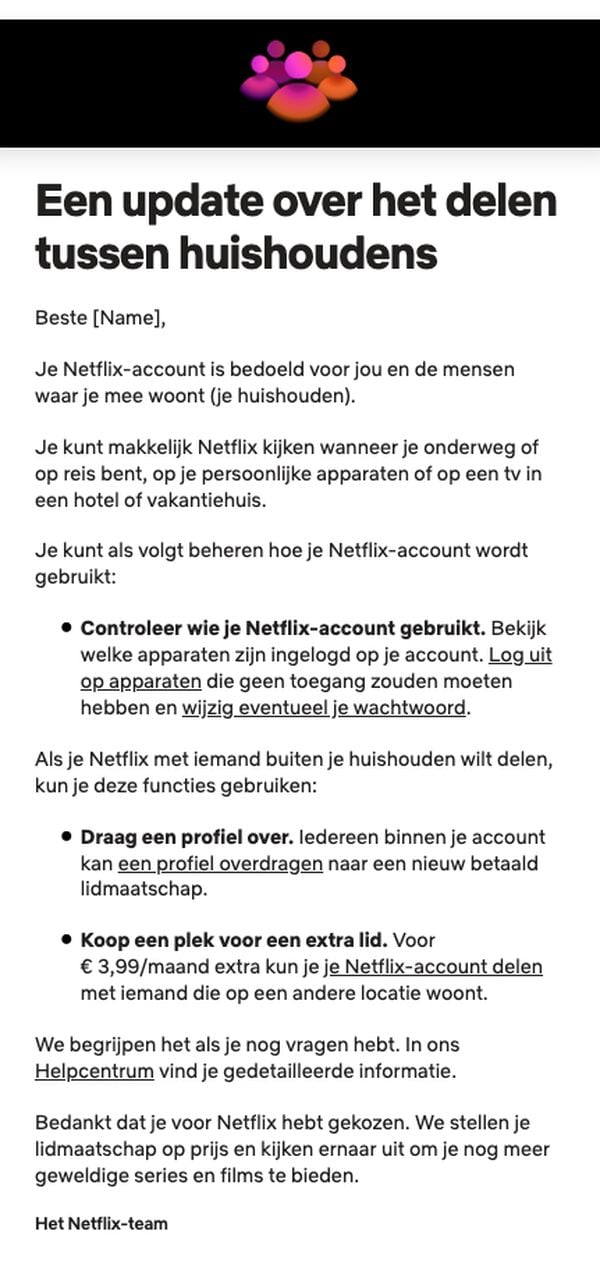 If you still want to continue sharing your account with someone outside the household, this is only possible if you pay an additional €3.99 per month per person. We also know from personal experience that this sudden change of course was implemented immediately.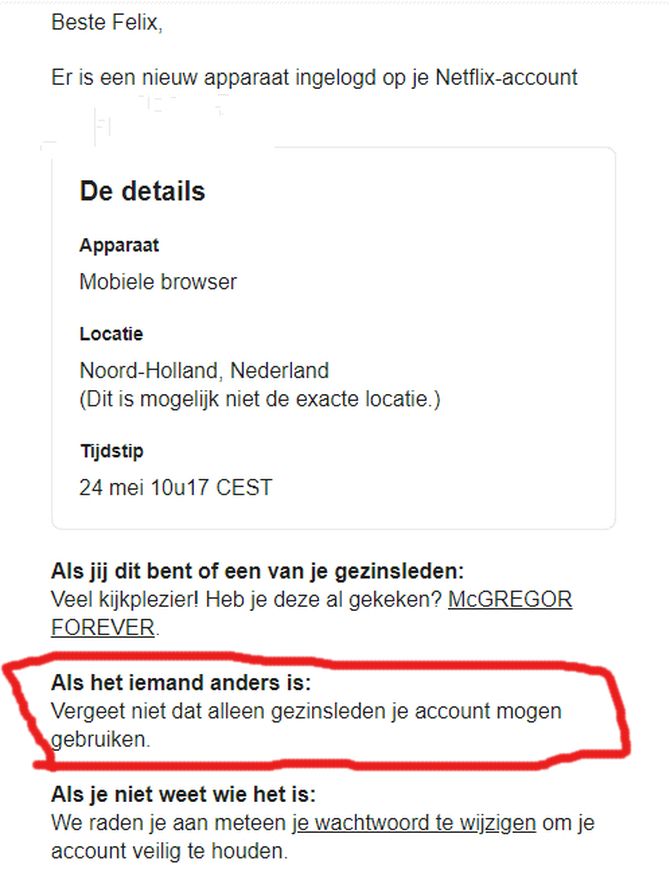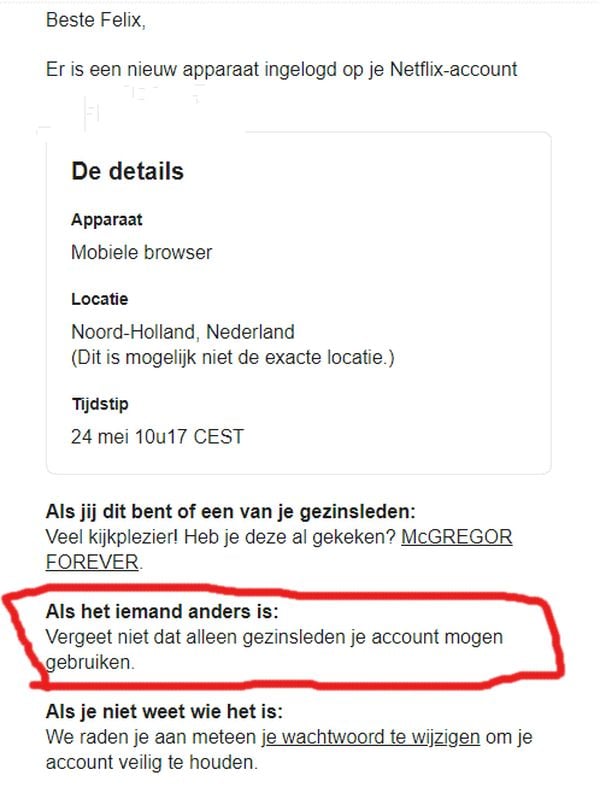 In addition to stopping sharing accounts in the Netherlands, the United States, France, the United Kingdom and Germany, among others, have also been put on a skewer. along with stopping Solid work Where it all began 25 years ago, it now appears that Netflix has taken a new path.
Did you see an error? Email us. We are grateful.
 "Infuriatingly humble travel fanatic. Passionate social media practitioner. Amateur writer. Wannabe problem solver. General food specialist."